Here is a snapshot of SDSC Gordon recorded at regular intervals using my nodeview program.
System Overview of Gordon
Total Nodes
896
Total Cores
14816
Total Jobs
356
Total Ranks
13028
Total Load
12173.9
Total SUs Running
686818
Total SUs Queued
447619
Current
Max
%
Node Availability
884
900
98.2%
CPU Utilization
12173.9
14816
82.2%
Core Utilization
13028
14816
87.9%
Slot Utilization
13072
14880
87.8%
Avail Slot Util
13072
14624
89.4%
Mem Utilization
4.3TB
58.6TB
7.3%
Visual Node Status of Gordon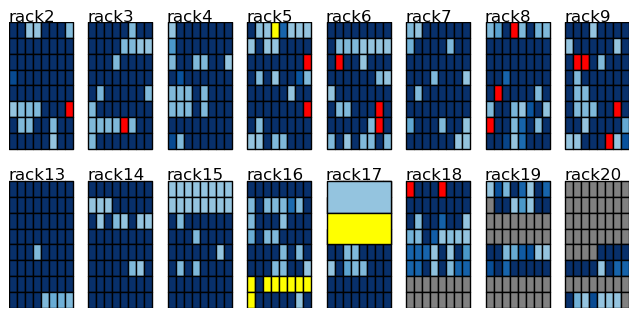 Current as of Thursday, July 17, 2014 at 7:00 AM
Shades of blue indicate the node's cpu load (darker = higher). Red nodes are down or offline, and yellow nodes are overloaded (load is significantly higher than amount of available CPUs).
Availability and Utilization over Time
The top figure below shows utilization and availability of various resources. The bottom figure shows the capacity of the system both running and waiting in queue. Such capacity is measured in CPU core-hours (SUs) and is calculated based on the requested time for every job running and in queue. It is generated using a few R scripts which are located in my GitHub repository.
Current as of Thursday, July 17, 2014 at 7:00 AM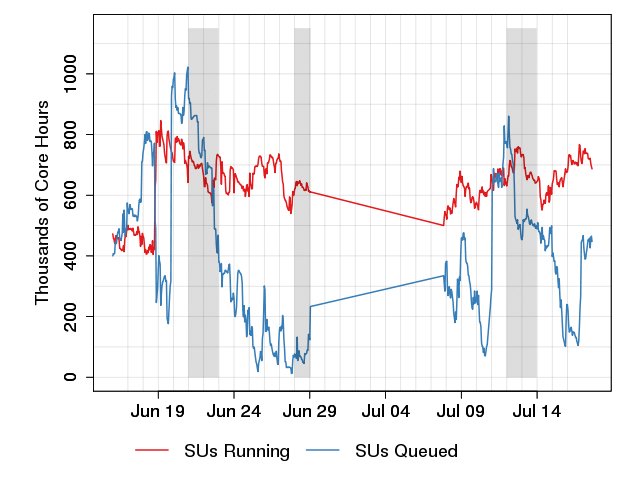 Current as of Thursday, July 17, 2014 at 7:00 AM
Known Events
The following events highlight abnormal features in the above availability, utilization, and queue health data.
| Date | Event |
| --- | --- |
| June 6, 2015 | PM (with drain) to reboot Monkey MDS |
| June 18, 2015 | cipres reservation released |
| June 24, 2015 | networking issue (due to Arista upgrade?) |
Current Utilization Breakdown
| | |
| --- | --- |
| Capacity Running | Capacity Waiting |
| Node Utilization | Core Utilization |
Current as of Thursday, July 17, 2014 at 7:00 AM